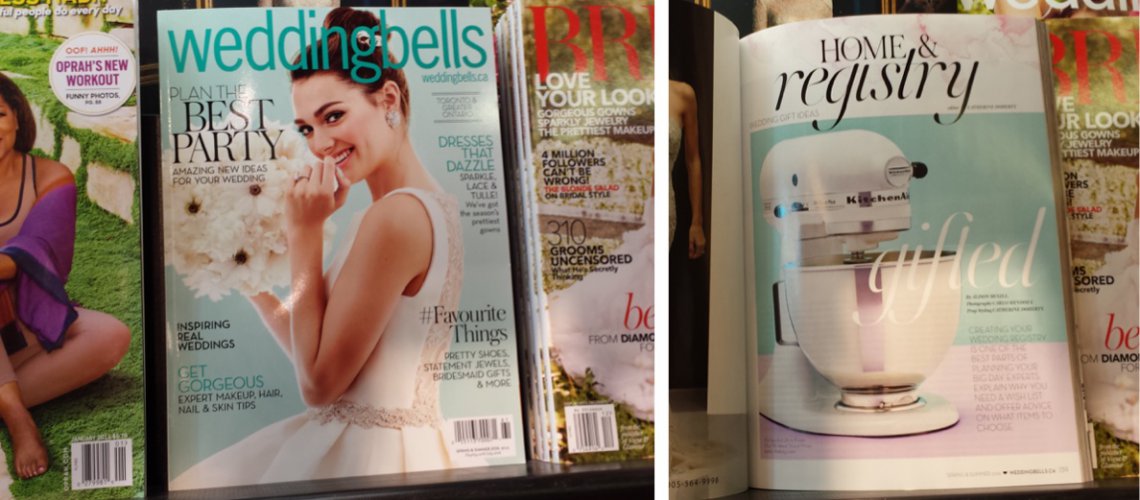 15 January 2016
GiftSpaces in Wedding Bells Magazine
News & More
The look of traditional gift registries is definitely changing. More and more, couples are already living together when they wed and have already acquired all the staple housewares, making today's modern wedding registries more about custom covetables and less about standard stuff.

In the Spring/Summer 2016 edition of Wedding Bells Magazine, GiftSpaces founders Caroline Laidlaw and Michelle Taylorson speak to Editor-in-Chief Alison McGill about the trend towards setting up honeymoon and 'experience' gift registries:
---
Gifted
Creating Your Wedding Registry is one of the best parts of planning your big day. Experts explain why you need a wish list and offer advice on what items to choose.
Though traditional home-centric registries are still most popular, registering for travel is also big. If you already have everything you need for your home, consider registering for honeymoon travel.
"Today's couples place a high value on having and sharing experiences," explains Caroline Laidlaw and Michelle Taylorson, co-creators of GiftSpaces.ca, a site where you can create a gift registry for both traditional items and modern ones. including travel experiences, buying your first home and even cash gifts.
"Couples want to start married life with amazing memories and shared experiences. Given the high cost of weddings already, honeymoons can put an extra strain on finances. Friends and family are often happy to help with the challenge of financing a dream honeymoon."
Some of the cool travel experiences Laidlaw and Taylorson have seen their clients register for include exotic honeymoons in places like Thailand and Switzerland, for which the couple included an ice cave exploration and dog-sled tour on their wish list.
"We also had a couple ask for a monetary gift to help relocate to the West Coast as a wedding gift".


---
*Here at GiftSpaces, we are dedicated to helping brides-to-be, new parents, honeymooners and all those celebrating life's special moments turn their visions into reality through the power of community. GiftSpaces allows users to curate one registry with anything from anywhere and have friends and family contribute financial gifts.
Create your own GiftSpace registry for free here.