How GiftSpaces started
We believe that gift giving should be about more than stuff. It's about celebrating life's momentous occasions with the people you care about and helping them start their next chapter, whatever that may be.
When we got to thinking about it, we realized most of the things that people dream about can't be bought in a store, and if they can, they definitely aren't all from the same place! We felt that there had to be a better solution to connect people from around the world to give more meaningful gifts.
The Solution
Say hello to GiftSpaces, an alternative gift registry that allows you to share the things you're passionate about and have loved ones financially contribute to help make them happen - travel, your first home, experiences, artwork, education - the sky's the limit.

It's a beautifully designed, personal and easy-to-use online gift registry that's helping to revolutionize gift giving.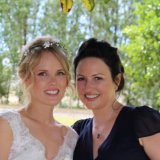 Our Promise
We're committed to providing a secure, easy-to-use and inspiring online gift registry platform. And it's free!