How GiftSpaces started
We believe that gift giving should be about more than stuff. It's about celebrating life's momentous occasions with the people you care about most and helping them start their next chapter, whatever that may be. When we got to thinking about it, we realized most of the things that people dream about can't be bought in a store, and if they can - they definitely aren't all from the same place!
We set out to help those celebrating special moments and new life adventures by creating a tasteful way to ask for gifts that are more meaningful, without the awkwardness. We felt that there had to be a better solution to connect people from around the world to give gifts that would go a long way.
So, whatever you're passionate about - experiences, honeymoon travel, food and wine, outdoor activities, furthering your education or buying your first home, we've delivered a way to easily create a vision board and have loved ones contribute to help make your dreams a reality. With 25 years' combined website development and marketing experience for some of the world's biggest brands, we're committed to providing a secure, easy-to-use online gift registry. And it's free!
The Solution
Say hello to GiftSpaces, an alternative gift registry that allows you to capture the things you're passionate about and have loved ones contribute to them in a meaningful way.

It's a beautifully designed, personal and easy-to-use online gift registry that's helping to revolutionize gift giving.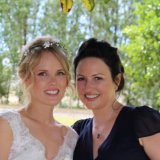 Our Promise
We see our mission going beyond the GiftSpacers who use our site; we want to help even more people turn their dreams into reality. So, we're contributing a portion of our profits every year to Canadian charities that help women move out of violence and poverty to start a better life.