Our Payment Processor
WePay is a trusted payment processor operating throughout the USA and Canada and is used by some of the biggest online businesses, like FreshBooks and Go Fund Me.
Thanks to these credentials, all payments via WePay are conducted securely and their processing systems are compliant with PCI, DSS and the Card Associate Compliance program.
Once you have set up your WePay account, WePay deposits your gift registry contributions directly into your bank account on a schedule determined by you - daily, weekly or monthly. You also have access to full reporting features so you to know at all times how much money has been gifted to you.
WePay makes contributing to a gift registry simple - your friends and family make their contribution using a credit card on our website like they would any other online purchase. They don't need a PayPal account or have to worry about bank transfers.
To find out more about GiftSpaces' commitment to security, check out our FAQs. You'll also find plenty of information there about setting up automated bank deposits, redeeming funds and our fees. Find out more about WePay.
Withdraw your contributions in 4 easy steps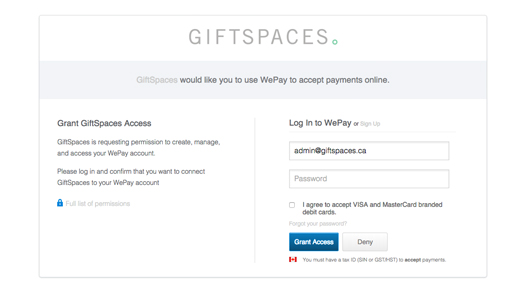 Step 1
Setup your WePay account by creating a username and password. Note: this username and password is not connected to GiftSpaces registry at all so can be anything that you like.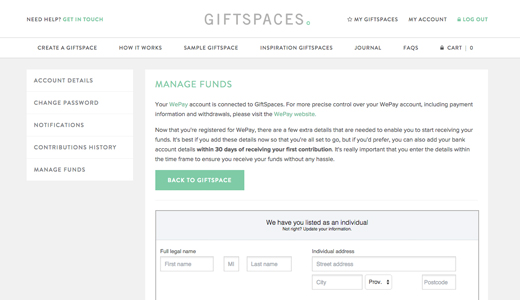 Step 2
WePay will ask you to enter some personal information so they can verify who you are and make sure all your payments get to you securely. The information requested is your full name, address, phone number, date of birth and Social Insurance Number.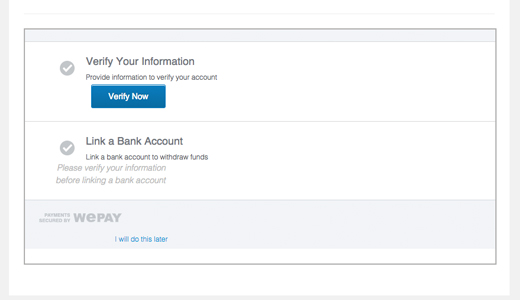 Step 3
Enter your bank account information within 30 days of receiving your first gift contribution so that WePay can transfer your money directly into your account. It's at this point that you will set deposits to happen automatically on a schedule determined by you - daily, weekly or monthly.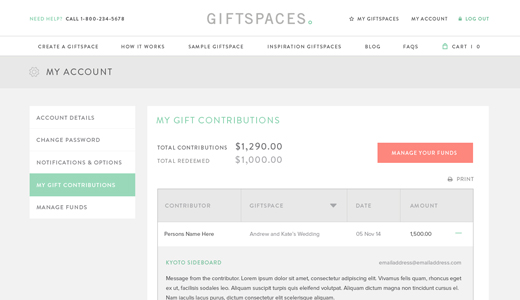 Step 4
Track your funds and view your gift registry contributions as they come in. You're one step closer to living your dreams!
How our fees work
It's absolutely free for you to create and share your GiftSpace. We do charge your contributors a small fee of 5.4% plus 30c per transaction, which is typically less than the cost of gift wrapping and postage.
Of this fee, our payment processor WePay charges 2.9% plus 30c per transaction. Apart from WePay's processing fee, we also have operating expenses - so the other 2.5% is what we get on each transaction. This really helps in keeping the lights on!
Gifter pays $105.70
Contributors are charged a small processing and admin fee of 5.4% plus 30c per transaction fee. Read more.