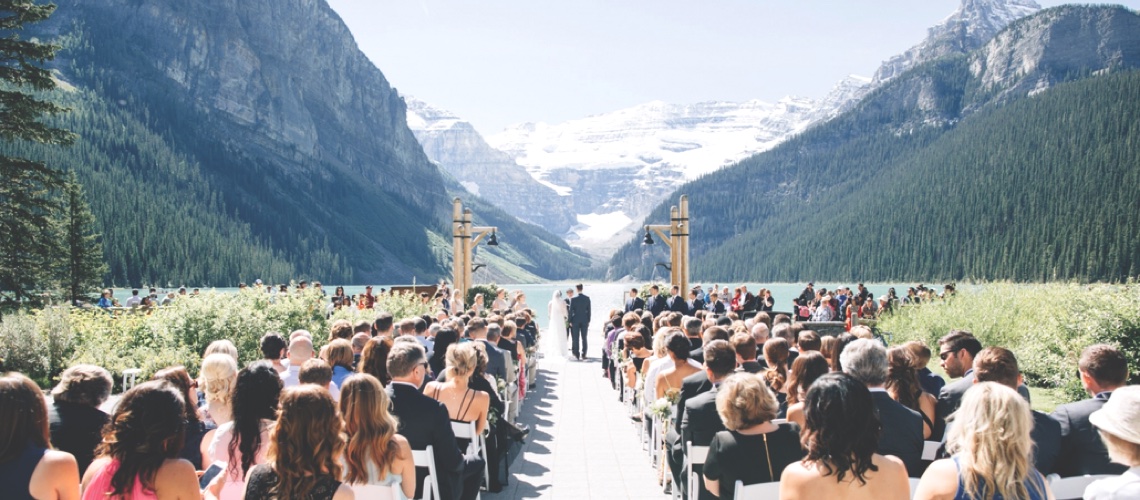 10 February 2017
Scenic Summer Wedding Venues Across Canada
Wedding Planning
From photo perfect rustic barns to magnificent mansions; outdoor cathedrals, lakes, oceans and even picturesque rocky cliffs, Canada offers up some of the most spectacular wedding photo opps in the world. With its bounty of natural spaces, incredible depth and breathtaking scenery, your pick for the most beautiful or breathtaking summer wedding venue is somewhere between our Canadian coasts!
Rocky Mountain Backdrop
The top summer wedding venue pick of the event planning team at Lynn Fletcher Weddings in Calgary is the Fairmont Banff Springs. 
"We love the Fairmont Banff Springs with the splendour and majestic beauty for the Rocky Mountains of Canada. Banff has so much to offer from elegant dinners all the way to breathtaking views from a Gondola ride to the top of the peaks of Banff." - Lynn Fletcher Weddings
Located in the heart of Banff National Park, this world famous hotel stands as a landmark in the picturesque, Albertan alpine town. Hailed as Canada's "Castle in the Rockies", this premiere venue features grandiose, scenic views and luxury amenities.
The Fairmont Chateau Lake Louise is equally as majestic and is situated at one of the most photographed and iconic landscapes in Canada. Definitely sure to create lasting memories.

Toronto's Majestic Castle
One of Canada's only real castle's, Casa Loma can accommodate up to 550 guests. Features include what you would expect from a grandeur venue including gardens, statues, fountains and of course, the grandiose Great Hall.
Indoor Gardens
Gaining popularity among Ontarian couples, Madsen's Greenhouse Banquet and chapel is uniquely landscaped as a tropical paradise available all year. At night miniature lights illuminate the ceiling as well as some of the trees, making it a perfect fairy tale venue for romance.
East Coast Charm
"We love Hubbards Barn as the "go to" spot for Nova Scotian couples who want to host their country chic or rustic inspired weddings. The venue is situated in the perfect location to host an intimate event with your family and friends who will take part in celebrating all those special moments on your wedding day. It has a little something for everyone so whether you need a place with ample parking, decide to have kids attend your wedding or not, have your ceremony outdoors, a great spot to dance the night away this gem of a venue most likely has what you're looking for." - Tara Tasco
BlissFull Thinking would be more than happy to assist you with determining if Hubbards Barn is right for you please feel free to contact us at www.weddingplanninghalifax.com
"In St. John's, the breathtaking natural beauty of the deep blue sea and a uniquely rugged landscape surrounds us. When the opportunity is presented to interlace the romance of this city, and its whimsical history, into ceremonies and receptions I am immediately inspired. That's why my ultimate St. John's summer wedding venue is The Rooms museum. It's a combination of modern architecture, with its floor to ceiling windows, and a natural aesthetic that looks out over our colourful downtown and glistening harbour in the distance. When a couple chooses to exchange their vows at The Rooms, the picturesque backdrop is truly magical." - Anna Patten
Visit AnnaPatten.com for more great venue ideas. She's one of Newfoundland & Labrador's most sought after event planner and lifestyle experts.
"The Doctor's House Inn & Suites is such a unique and dreamy venue. It's my favorite wedding venue here on the East Coast." - Andrea Hounsell of Borrowed & Blu Events - a full-service event planning firm specializing in weddings and corporate events.
Halifax Tall Ship
Up to 150 guests can be very comfortable, in rain or shine on the Tall Ship Silva, an awesome wedding venue on the water. This ship is fully equipped to pull off an unforgettable event!


Quebec splendor
Nestled majestically between the sea and the mountains, the Fairmont Le Manoir Richelieu is a vision of historical splendor. This luxurious venue is rich in tradition, grandeur and intimacy.
Northern Lights
The trip may be far north, but this bit of rustic luxury in Canada's Northwest Territories is undoubtedly romantically surreal. The Blachford Lake Lodge & Wildnerness Centre in the Yukon provides everything you need for a beautiful wedding, but comes with the Aurora Borealis, one of nature's most incredible night sky shows.